Onscreen Advertising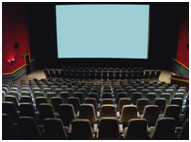 Looking for a unique way to advertise your business to a captive audience? Join our advertising program and get your ad up on the big screen.
Majestic 10 offers a wide variety of Advertising Packages. Some popular options include premium in-show Ads that play with the previews and Digital Lobby Displays.
Choose from one of our predesigned advertising options or design a customer package built for your Business!
For more information including our Advertising Packet, please complete the form below.
-- --